Kuala Lumpur has a great nightlife with lots of bars, pubs and nightclubs. If you are looking to pick up girls in Kuala Lumpur then there are lots of bars that contain what we refer to as bar girls. Some may call these girls prostitutes, a nicer term would be opportunistic girls looking to make some money and maybe find a rich boyfriend. List on these pages are some of the bars and nightclubs where you will find some of the most beautiful bar girls in Kuala Lumpur.
There are a wide variety of bar girls hanging out in Kuala Lumpur. Many of the girls are from Vietnam, Thailand, the Philippines and China though some are local Malay. Sometimes you also get girls from Turkey and some of the African countries.
The bar girls charge different rates depending on how good looking they think they are. Generally the bar girls charge RM200 - RM250 for short time and between RM300 - RM500 for long time.
The legal drinking age in Malaysia is 21 and you will be asked for ID if you look under 25. Most of the bars close by 1am due to the strict laws though some of the bars listed on this page are open to 3am.
In the bars of the major hotels you will need to dress up, no shorts or singlets. The other more casual bars it is best to wear long pants though they are not as fussy as the big hotel bars.
Lady boys in Kuala Lumpur
As with most Asian cities you will find lady boys hanging about looking for business. Some are post-operative (surgically constructed vagina) and others are pre-op (chicks with dicks).
The Boom Boom Room is one bar where the lady boys hang out in.
Last updated 21st January 2013
Hard Rock Cafe is the typical Hard Rock Cafe during the day, serving American food like hamburgers and hot dogs. At night time the Hard Rock Cafe turns into a wild party spot with girls dancing on the bar and lots of pretty bar girls.
Beach Club Cafe has live shows with a live band and dancing girls every night of the week. Beers are RM20 for a pint of Carlsberg until 9pm after which they are RM25. There is an entry fee of RM50 after 9pm which includes 1 drink. Beach Club Cafe is located on the corner of Jalan P Ramlee and Jalan Sultan Ismail. The Beach Club opens until 3am most nights. The girls get there early to avoid the cover charge to get in so plenty of fresh ones to choose from from around 5 - 6pm.
Thai Club directly across the road from the Beach Club. As the name suggests this place is full of beautiful Thai bar girls. A small gals of beer is RM11 before 9pm. Entry fee after 9pm is RM15 then RM35 after 11pm. They have a good selection of food including pizza for around RM31 and Thai and Asian food.
Luna Bar
Sky Bar at Traders Hotel
7atenine at The Ascott
Zouk is one of the most popular nightclubs in KL.113 Jalan Ampang Kuala Lumpur.
Sexual Transmitted diseases
Always use a condom, no matter how sweet these girls seem. Most of these girls work here in Kuala Lumpur as well as back in their home country. It's very easy to get a variety of diseases including gonorrhea, Chlamydia or HIV from unprotected sex.
If you are looking to meet a local Malaysian girl then you can try some internet dating sites.There are plenty of horny girls looking for fun. One of the best internet dating sites in Malaysia is MalaysianCupid. During the day there are around 150 girls online. In the evenings there can be over 300 girls online to chat and get to know. Well worth checking out. You can join for free and browse profiles. To be able to send messages you have to pay. The joining fee is cheap starting from SGD$29.98 for a 1 month membership.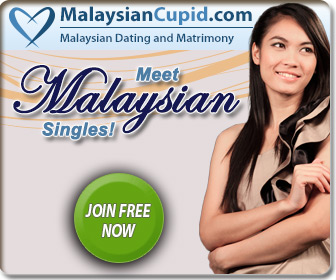 Also check out: